Delivering gourmet salsas, sauces and relishes from our home to yours!
Available in $25, $50, $75, and $100 CAD!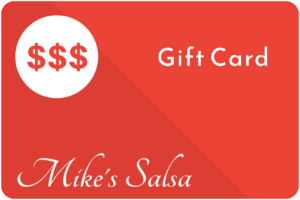 Get notified of exclusive product discounts, new products, and blog content.
Yes, it all started with the tomatoes and then the magic happened in Mike's kitchen.
Traditional recipes handed down from the family were selected to transform the bounty of Mike's homegrown garden tomatoes into the best tasting Salsas ever.  The delicious Salsa flavours created are not only fresh tasting, they complement the healthy lifestyle of our customers.
In 2016 the MN FARE Corporation was formed by co-owners Mike Sholter and Norm Yakel to better serve the community demand for Mike's Premium Salsas and to bring new and exciting  gourmet products to the marketplace including Pineapple Salsas, Anise Salsas, Cucumber Relish, and Cranberry Coulis.
Our many customers delight in telling us over and over again how the fresh homemade taste of Mike's Salsas, Pizza Sauce, Relish and Cranberry Coulis remind them of times gone by when their mothers or grandmothers would make relish and preserves with vegetables from their gardens.
 As life is all about making memories, Mike's Salsas create a special key to unlocking the most memorable and special moments in your life with family and friends from the past and will most definitely inspire extraordinary memories in the future.
So, let the magic begin for you.  Make Memories with Mike's Salsas!
– Mike's Salsa – MN Fare Corporation